More than one in five school children are eligible for free school meals in Bolton due to low household income – that's 8,600 children! During the school summer holidays, many such families face a six week struggle to find the money to feed their children. In response to this crisis, we mobilise hundreds of volunteers over the six weeks to prepare packed lunches. Working in partnership with churches, children's centres and other community venues, we then distribute the lunches across the borough for free collection at the point of need by children and their parents.   Our aim is to ensure that no child goes hungry.
Children watched for the Bolton Lunches van to come onto the estate, and then ran out, shouting: "Our lunch is here, our lunch is here!"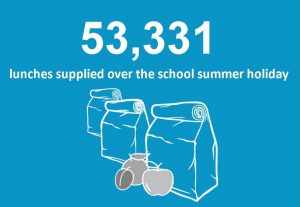 2020 Update
Working closely with Bolton Council, we were all set to implement a Covid-19 secure variation of this project during 2020 school summer holidays. However, with the government's recent announcement that it will extend free meals, vouchers and holiday clubs for the most disadvantaged children over the holiday period, the project will not be required for this year at least. We will continue to review the situation and respond as best we can, to meet needs arising from gaps in support for those who struggle the most. 
How it Works
All the food which goes to make up the lunch packs is purchased fresh using money donated from a variety of sources.  A lot of fun is had when around 60 'early bird' volunteers assemble at 7am to make the packed lunches fresh each weekday over the school summer holiday. The packs contain a bread roll with a choice of fillings, a carton of fruit juice, a cereal bar, a pack of mini cheese biscuits and a piece of fruit. The packs are then driven out to distribution venues across the town – targeting areas where there are high levels of free school meal claimants.
Bolton Lunches provides a fantastic opportunity for community centres to reach out and make deeper connections with people in their area. It brings new families into local centres – connecting them with people and services which can help with their broader needs. Each year, a number of our partners use the opportunity to arrange other activities. For example, Seddon's Construction arrange a 'teddy bear's picnic' at their offices. Hundreds of children and their parents from some of our distribution venues are then transported to have the lunch there.
We are ever grateful to all who have so faithfully supported this project over the years – both financially and in supplying delivery vehicles and staff at no cost. These include Bolton Council, Seddon Construction, 'U Drive','Vensons' the Asda Foundation, churches across Bolton and many individual donors.
In the summer of 2019, thanks to our friends at Chester Halo, we were able to run the project from the empty Staples (Office Outlet) unit on Trinity Retail Park,  (location can be seen by clicking here).
Locations where the lunches were distributed in the summer of 2019 can be seen by clicking here.  We continue to reach out to communities across Bolton who have a need for this project. Please do get in touch with us if you would like to discuss next year's project. We would also like to encourage and support more of our distribution centres to provide activities for the children and families when collecting their lunches.
Outcomes
In the summer of 2019, working in partnership with local community centres, churches and businesses – together with an army of over 200 amazing volunteers – we produced and supplied 53,331 lunches over the school summer holiday (up from 52,044 in the previous year). On average this amounted to 9,195 lunches per week (or 1,839 per day). Approximately 6100 individual children were fed through the project. The lunches were distributed from 29 local centres (two more than in the previous year).
You can see Bolton Lunches in action by watching the video below.