Storehouse is Bolton's main centrally located foodbank – providing weekly food parcels to those in need across the borough. We simply could not deliver such a broad-based and far reaching service without the help and support of specialist and local community-based agencies, the generosity of food donors, and the commitment of many volunteers.
Primarily the project supports families and single people in distress as a result of redundancy, illness, debt, adverse changes or a delay in benefits including those who have been sanctioned. Other reasons for people needing to make use of the foodbank are homelessness and family breakdown.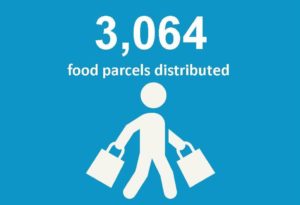 Client Stories - Storehouse
"Storehouse brings hope to people in desperate times"
How it Works
Agency workers are the first point of contact for individuals wishing to receive food. A voucher system is used to register applicant circumstances and their support needs. The agencies we partner with hold vouchers on our behalf and make a basic assessment at the point of need.
Voucher recipients are invited to collect food from our Urban Restore Centre which is situated on the corner of Pool Street and Bark Street in Bolton. The Foodbank is open every Tuesday morning. Agency staff may request a home delivery on the preceding Monday evening for housebound clients.
Clients attending our Restore Centre are welcome to stay for refreshments and a chat with our volunteers who can signpost them to other services and agencies for further support.
If needed, clients can access up to six weeks of food in any 6 month period. Most of the food we are able to supply comes from food donations, and local supermarkets surplus.
We conduct periodic refresher training with our partner agency workers. This covered eligibility criteria, operating procedures and signposting guidance.  Working together, we are proud of the comprehensive range of support beyond food that our clients are able to access to help them address the underlying causes of their hardship.
Food provision alone is not a sustainable way of helping someone, so we work with agencies to ensure the cause of their hardship is addressed alongside receiving food. Along with our Winter Watch project, Storehouse benefits from the generosity of over 60 schools, 80 churches and numerous local business, organisations and individual people who collect food, both at harvest time and throughout the year.
You can learn more about how to make food donations here.
Outcomes
Over the past year Storehouse Foodbank gave out 3,064 food parcels (up from 2,900 in the previous year). The average household size was relatively static at 2.3. Adults were supported on 4,064 occasions (up from 3,685), and children on 2,830 occasions (marginally down from 2,847).
Most recipients collected their parcels from our Centre. However, home deliveries were made on 660 occasions (marginally down from 684). In the majority of cases (1164), the reasons given for requesting a food parcel were changes, suspensions or delays to benefit payments. This is down from the previous year but we have seen an increase in those accessing the foodbank due to high levels of debt by the same number.
Over the past year, client referrals to the foodbank were made through a staggering 492 staff working for 123 partner agencies (up from 118 in the previous year). These include Citizens Advice, housing providers, community and Children's Centres, local authority workers, health visitors and other local charities.
Over the course of the year more than 90 volunteers helped to sort and bag food, and provide a warm and welcoming atmosphere with refreshments when clients attend.
A recent survey of our foodbank clients' views found the overall satisfaction with our service is running at 100%. You can read the story as told by one of the many people who received help from Storehouse here.
Local Welfare Provision
Bolton Council Local Welfare Provision
Urban Outreach also supplies emergency food parcels for Bolton Council under its Local Welfare Provision scheme (replacement for Community Care Grants and Crisis Loans). This is a separate scheme to Storehouse. All enquiries regarding this need to be directed to the One Stop Shop at Bolton Town Hall 01204 332772 or online here. We only supply the food parcels and regret that we are unable to answer queries about applications, the application process or eligibility.
In the main, means-tested referrals are made to us by the Council who fund the scheme. We purchase the specified items and prepare them for distribution according to household size. The food we provide is intended to be sufficient to support the applicant household's needs for a week. We are only able to provide this service to clients who attend our office on Salop Street, Bolton with an approval code issued by Bolton Council or Bolton at Home.
Over the last year for Bolton Council, 1536 referrals were made for food parcels and/or energy top ups, supporting 1536 adults and 775 children (down from 1,579 referrals in the previous year). On average each month we supplied £3,190 worth of emergency food and £2,907 worth of pre-payment gas and electric top ups.
Over the last year Bolton at Home made a total of 77 referrals totalling £2,667 for energy top ups.