We provide hampers to struggling individuals and families containing everything they need to do a traditional Christmas Dinner – right down to mince pies and Christmas crackers!
"Nadine was thrilled to bits with the Christmas hamper and said there was no way they would have been able to have a proper Christmas dinner prior to receiving that. After all she has been through recently, it was a complete lift for her spirits, so thank you so much."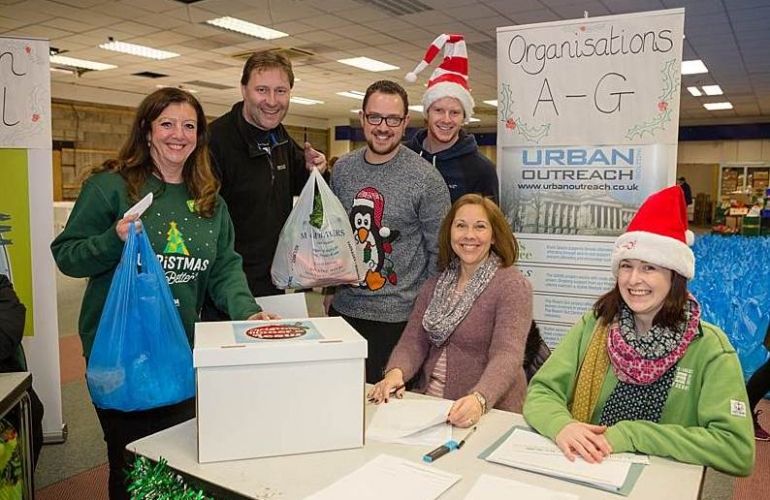 About Christmas Dinner on Jesus
For the last few years, helped by schools, churches and local businesses we have put together hampers and distributed them a couple of days before Christmas to families in Bolton who are having a hard time, for various reasons. These families are identified by our contacts in local churches and other organisations. People from the church or organisation then collect the hampers and take them round to the families who they know are in need.
We ask schools, churches, local business and other local organisations to pledge and collect Christmas food items to help us make this a reality for hundreds of families in Bolton, giving them a little bit of good news and hope at Christmas.
"We delivered hampers to an elderly lady who had just been conned out of all her life savings, and a family who had been burgled and all their Christmas presents stolen. Both were in tears when we gave them the hampers."
"Having delivered four parcels, I felt totally fulfilled at the end of it. To be able to provide families who have been through difficult times over the last 12 months, the ingredients to complete their Christmas was fantastic. When we arrived to collect the parcels, seeing all the volunteers restored my faith in society. I went out delivering the parcels and the response was inspiring. All four families were overwhelmed with your kindness and couldn't thank us enough for delivering the parcels."
If you are able to supply items or funding for the hampers or want to know more please get in touch using our Contact page.
Nominations for hampers
A great big thank you is owed to the many people from all over Bolton who have contributed to our 'Christmas Dinner on Jesus' project in 2018. As a result of your amazing effort we were able to deliver hampers to over 1,270 households, bringing a dinner packed with happiness to over 4,500 people!