Everyone should experience a little joy at Christmas, but we know for many it can be a sad time. Loneliness, family breakdown, bereavement, or having just too little money to celebrate the occasion are some of the reasons. So with the help and support of many individuals and agencies, this project is able to provide hampers to many who are struggling. The hampers contain everything that an individual or family needs to put on a traditional Christmas spread – right down to mince pies and Christmas crackers!
"Nadine was thrilled to bits with the Christmas hamper and said there was no way they would have been able to have a proper Christmas dinner prior to receiving that. After all she has been through recently, it was a complete lift for her spirits, so thank you so much."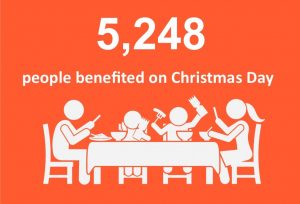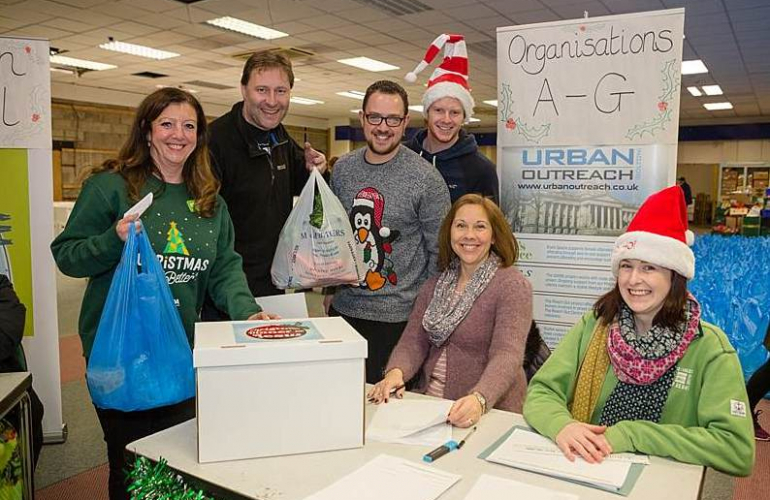 How it Works
Each Autumn we touch base with all those who have supported the project in previous years. We ask schools, churches, businesses and other groups to consider making a pledge to collect specific items that will be used to make up the hampers.
We also depend upon the generosity of many individuals and organisations who donate the money we need to purchase fresh items for the hampers. This includes fruit and vegetables – not forgetting the chicken!
In the weeks leading up to Christmas, agencies workers are invited to nominate individuals and families to receive a hamper. Then just before distribution day our volunteers get stuck into preparing the hampers.
It all gets very hectic as we finalise preparations and get all the hampers delivered in time. None of this would be possible without the support of many agency workers who call to collect and deliver hampers to the doorstep of those they have nominated. It's hard work – but very rewarding for all concerned. The appreciation shown by hamper recipients can be overwhelming!
Each year the project has benefited from many sources of support which has ensured we have been able to cover most of our direct costs. We are grateful to all of these including Bolton Council, Bolton at Home, Seddon construction, churches and businesses across Bolton and many individual donors. Thank you everyone for your continuing support!
"We delivered hampers to an elderly lady who had just been conned out of all her life savings, and a family who had been burgled and all their Christmas presents stolen. Both were in tears when we gave them the hampers."
"Having delivered four parcels, I felt totally fulfilled at the end of it. To be able to provide families who have been through difficult times over the last 12 months, the ingredients to complete their Christmas was fantastic. When we arrived to collect the parcels, seeing all the volunteers restored my faith in society. I went out delivering the parcels and the response was inspiring. All four families were overwhelmed with your kindness and couldn't thank us enough for delivering the parcels."
Would you or your group be interested in supplying items that go into the hampers for this coming Christmas?   Perhaps you would like to contribute towards the funding we need to purchase the fresh items that go into the hampers? Or you may simply like to know more about how the project works. Please get in touch using our Contact page.
Nominations for households to receive hampers are made through agencies who register with us. There is a link here to make your nominations.  This goes live from mid-November until just before Christmas each year. Nominations for Christmas Dinner on Jesus 2023 will open at 10am on Monday 6th November and will close at 12noon on the 8th December .
Outcomes
Last Christmas we were able to provide 1644 Christmas hampers. We received and were able to respond positively to all referrals from 106 nominating churches and agencies within the town and from our own service areas. Over 44 organisations, churches and individuals donated items for the hampers.
Over 200 volunteers assisted us in the assembly and distribution of the hampers. We are immensely grateful to everyone who contributed in some way. We are proud to say that as a result of everyone's efforts 5,248 people (that's 2514 adults and 2734 children) benefited from the hampers.