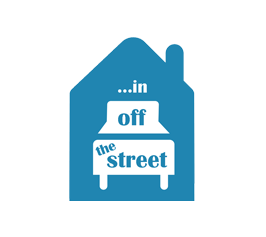 We are working with other agencies who share our concern for people who, for a variety of reasons, find themselves sleeping rough on the streets of Bolton. With the help of Bolton Council, Bolton Homeless Alliance brings services together to provide a range of support that reduces the risk of harm and supports rough-sleepers into accommodation. For our part, Urban Outreach provides a temporary emergency night shelter through the cold winter months. Our shared vision is that no-one, whatever their background or circumstances, should have to endure the desperation and indignity of living on the streets of Bolton at any time.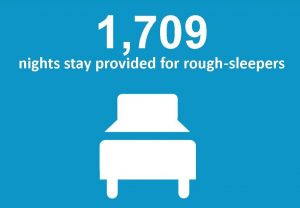 How it Works
Three years ago, we established 'In Off The Street' our temporary night shelter facility which was created within the former Central Baptist Church on Snowden Street, Bolton (see location plan).  Bed spaces were made available on a risk assessed referral-only basis, for use by those resorting to rough sleeping in Bolton over the winter months. There was a limited number of segregated and socially-distanced bed spaces for men and women aged 18+. We made available light refreshments, showers and clean clothes for those that needed them. There was opportunities for those referred, to chat with and get support from our workers.
During the pandemic, government funded Covid-Secure single bedroomed provision was made available and as such we have not needed to open our provision.
However, we stand ready to re-open our emergency night shelter should the need arise, subject to government guidelines, and the availability of suitable staff and volunteers.
Outcomes
Due to the pandemic our emergency night shelter had to close in March 2020. However, from October 2019 through to March 2020 'In off the Street' received 139 referrals of which 97 individuals accepted a bed at the shelter. This avoided the need for them to sleep out on the cold streets. Some guests only needed a bed for one night before moving into more settled accommodation. For others, this took longer to arrange. In one case, a guest needed our support for the full 19 weeks we were open, before finally being accommodated. The project provided a total of 1709 nights stay and among many other essential services, 667 showers were provided.
Our original plan was for the emergency shelter to be open for 150 consecutive nights through to April 2020. However, we had to close our doors on the morning of 29th March because off the pandemic.
Our guests were given priority consideration for move-on accommodation and as a result of our efforts working closely with Homeless Welfare, only 4 guests remained with us in the final week. Two were accommodated in a Manchester hotel as part of the Greater Manchester Alternative Accommodation initiative and two were rehoused in Bolton.
We were immensely pleased that none of those we accommodated had to return to the streets. Bolton Homeless Alliance figures show that a total of 56 of our guests transitioned directly into more permanent accommodation. For some we know, the task is made harder because of anti-social behaviour and other complex factors. In some cases rough-sleeping has become such an engrained way of life, it is hard for them to leave it behind.
In that period a total of 91 volunteers helped us to achieve our aims and the project would not have happened without their boundless care, compassion and commitment.
Help Needed!
If you are interested in helping us with our emergency shelter, if we are able to make it happen this year, we would love to hear from you! Perhaps you are able to contribute financially to support the shelter? You can do this through the link here.  We also greatly value the support given to this vital service through prayer.
We also need volunteers to help run the shelter. These are people who have time to spare, can help out at night or early morning, are compassionate, reliable and friendly. There are volunteer teams for evening shifts (8.00pm – 11.15pm) and for early morning shifts (6.45am – 8.30am).
Evening teams are responsible for welcoming and chatting to guests, serving drinks and snacks, and helping to facilitate showers and clean clothing. We then have staff on duty through the night who have to stay awake to keep an eye on guests to ensure their comfort and safety. Morning volunteer teams are responsible for preparing and serving breakfast and for tidying up the shelter for the following night.
If you are interested in helping out in any way, please contact Ian at our office who will be happy talk everything through with you. You can reach him on (01204) 385848. Alternatively you can email him on ian.gardiner@urbanoutreach.co.uk  If you would like to take it a step further, you can complete a volunteer application form here.
All our volunteers receive training and support in their role.