Independent research has highlighted that two per cent of families in the UK suffer significant multiple problems which are often linked with parents not working, children not attending school, youth crime and anti-social behaviour. This in turn places increased demands on local services such as health, social care and criminal justice. With this project we are supporting Bolton Council in delivering a programme of personalised in-depth support to such families – helping them take steps to create solutions to their difficulties.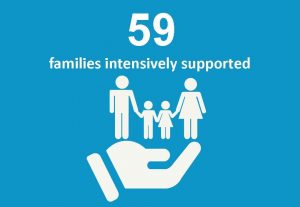 Client Stories - Family First
How it works
Bolton Council refers to us, families with some of the most complex needs. These are those that are likely to benefit most from our support. Unfortunately we are not able to accept direct referrals from agencies and other individuals.  Any such enquiry should be directed to the Family First Co-ordinator within Bolton Council's Community Safety Team, Tel. 01204 331051 or email community.safety.services@bolton.gov.uk
Our experienced team works closely with a range of agencies and specialist practitioners to provide families with advice, support, guidance and encouragement. Our partnership approach, coupled with our range of complementary in-house services has helped in bringing a joined-up 'family focused' approach to this work.
Initially we work with the family to build trust and understanding. Once we have a clear picture of what is needed, we work with the family on putting together a Support Plan. Often this will include social and health issues, accompanying them to appointments, making specialist referrals, and helping family members access the services they need. Our support workers are passionate about what they do, often going the extra mile for the families they work with, and keeping cases open for as long as our help is needed.
The evidence shows that our approach often works where engagement and relationships with other professionals has broken down. We are consistently able to report good positive outcomes around improved engagement with services, improved attendance at school, successfully accessing skills training and employment, improvements in family approaches, thinking and attitudes, health and housing issues.
You can read a short story about one of the many families we have worked with here.
Last summer, for a second year running we provided a number of the families we are supporting with boxes full of fun activities they could engage in. This was borne out of our experience with some families who were particularly struggling during the long summer holidays – with few ideas, money and resources to properly enjoy themselves. The boxes included games and low cost ideas – enabling families to enjoy quality time together. Once again, the initiative proved a real success!
Outcomes
Over the course of this last year 21 families were referred into our Family First service and we worked with a total of 39 families (down from 59 families in the previous year). It has been recognised that although numbers have fallen, the complexity of the situations with the families referred to us remained high and in some cases had increased.
We achieved 'positive outcomes' in 17 out of the 26 families closed (65%) which we finished working with us between April 2019 and March 2020. This is down from 97% the previous year due to the increasing complexity of the families engaging. Typically the outcomes that are achieved are reductions in offending, improved school attendance, improved mental health, and a reduced instance in substance or domestic abuse.