Research undertaken by and for organisations working within the Criminal Justice System demonstrates that women who are at risk of offending, ex-offenders and those currently serving a prison sentence have distinctly different needs to those of men. We are working within an Alliance of service providers across Greater Manchester to support such women. Our aim is to reduce the incidence of offending and to support those at risk – helping them to rebuild their lives and fulfil their true potential. Our vision is to see a sustained reduction in the number of women sent to custody from Bolton, where good alternatives are available in the community that address the causes of women offending and supports their rehabilitation.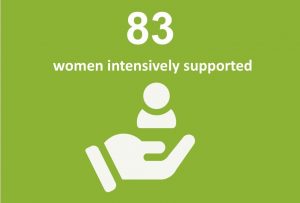 Client Stories - Eve's Space
How it works
Working closely with 8 other voluntary sector partners, Eve's Space is part of (GM) Greater Manchester Women's Support Alliance which receives funding from The Big Lottery, GM's Community Rehabilitation Company (formerly Probation Services) and the Combined Authority for GM. The 'whole systems approach' adopted by our Alliance is recognised nationally as a model of good practice.
As with all Alliance members, the services provided by our Eve's Space project are for women only. We offer a safe and relaxing space within our centre, plus outreach support provided by specialist female support workers.
The service supports both women who have offended, and those who are at risk of offending. The support we provide includes assistance with accommodation, finance and debts, health, skills and employment. We provide guidance and support with alcohol and drug issues, and difficulties experienced with children, families, attitudes and behaviour. Together with each service user, we produce an action plan to help them meet their goals and aspirations.
Our service receives referrals from probation, the police, prisons, the courts and other support agencies. Women can also self-refer. It's a free, friendly service that can help women tackle some of the problems in their lives. If you live in Bolton, are over 18 and can answer 'yes' to any of the questions below, we can probably help:
Are you worried about getting into trouble with the police?
Are you due in court and would like some support?
Are you afraid of a custodial sentence?
Are you in custody and due to be released into Bolton?
Are you worried about how you are going to manage when you are released?
Are you at risk of offending because of difficulties at home or in your life such as drink, drugs, unemployment, abuse, debt or housing issues?
If you wish to enquire about accessing Eve's Space, please call us on 01204 385848 or email admin@urbanoutreach.co.uk  The professionals we work with should always use a secure email address (not this one), when sharing information. Please ring to discuss if necessary.
A 2017 analysis of the wider GM project of which Eve's Space is a part, found that 43% of the women engaged had mental health issues. 37% had their needs met or made positive progress as a result of the support received. 43% experienced an increase in confidence/self-esteem, 20% were able to substantially reduce substance misuse and 58% were supported into stable accommodation.
OUTCOMES
In total 112 referrals were received by Eve's Space in 2021/2022. This was up from 80 in the previous year. As this is a voluntary service, a number of these chose not to participate for a variety of reasons. Over the course of the year, 83 chose to engage with us in a meaningful way, (up from 59 in the previous year). This level of engagement underlines the complexity of need present in the women's lives.
92 cases were closed in the year. An analysis of what had been achieved with our support found that 92% made positive progress in their mental health. 18% of the women we supported were able to resolve finance or debt issues. 44% were able to address substance alcohol issues. 26% were able to address drug issues. 48% had their accommodation needs met.
In feedback we collected from each service user over the past year, 100% said they were satisfied (or better) with the service we provided. Comments made in feedback included:   "Thank you for putting up with me and being such a great support." and "Thank you for all the help and support! You've helped me get through so much."
If you would like to read more about the impact Eve's Space can have, you can read Sarah's Story here.