Prayer has been, and continues to be the foundation of everything we do. Our faith empowers us and we know God changes lives.
Alongside our prayer diary, which you can download below, this page will highlight prayer needs and answers to prayer requests.
We would love you to join us in praying for the men, women and children that we work with in Bolton. We also pray for our partner agencies, schools and churches across the town.
Please click here to view or download our current Prayer Diary.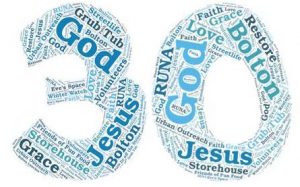 Join us through 2020 as we praise God for His faithfulness over our 30 years.
Thank you
PLEASE PRAY!…
Last weekend saw Winter Watch opening its doors for the first time this year. Please pray for the teams of volunteers who will be supporting this project and for Samuel who will be coordinating it. May it run smoothly, safely and bring God's amazing Love to many who visit.
Thank you for praying!
"Believe me when I say that I am in the Father and the Father is in me; or at least believe the evidence of the miracles themselves." (John 14:11)
The story around a young woman and her partner is miraculous! However as this young woman recovers in hospital from a collapsed lung please pray for her complete recovery and for her partner as he and his family take care of their new born child.
Thank you.
To Him we give the Glory!