Prayer has been, and continues to be the foundation of everything we do. Our faith empowers us and we know God changes lives.
Alongside our prayer diary, which you can download below, this page will highlight prayer needs and answers to prayer requests.
We would love you to join us in praying for the men, women and children that we work with in Bolton. We also pray for our partner agencies, schools and churches across the town.
Please click here to view or download our current Prayer Diary.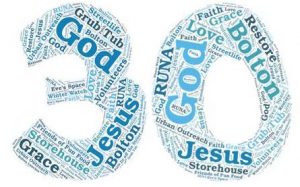 Join us through 2020 as we praise God for His faithfulness over our 30 years.
Thank you
Please pray for…..
Please continue to pray for the team at Urban Outreach as we all seek to provide support to the most vulnerable in our town. Pray for those at the unit who are running the food operation with the support of volunteers and statutory organisations; and pray for the rest of the team who are connecting daily with existing clients and are helping to keep the office functioning. Thank you
"The joy of the Lord is your strength" (Nehemiah 8 verse 10)
And…. please pray for a woman who needs intensive and focussed support. However, due to unwise choices she is making, we are finding it difficult to engage with her and support her effectively. Please pray for God's intervention in her chaotic life.
Let us give thanks for….
In these difficult and unusual times, we are experiencing God's Love in so many ways. Please join us as we give thanks for His faithfulness, provision, protection and wisdom as each day we look to be an expression of His Love and Hope in our town.
Hallelujah!