The occurrence of rough sleeping in Bolton experiences minor fluctuations, with a limited number of individuals seeking shelter on the streets at any given time. Added to this we estimate there are many hundreds more who are in temporary and often highly unsuitable accommodation. Street Life works hard to get 'difficult to house' individuals into suitable and sustainable accommodation. Our vision is to see no-one having to resort to living on the streets, or in unsuitable accommodation at any time in Bolton.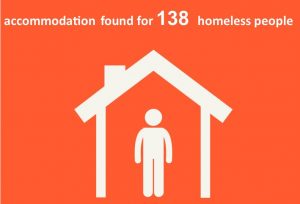 Client Stories - Street Life
"Urban Outreach's expertise in securing accommodation and providing support for homeless people is invaluable in the borough. Their knowledge and expertise plays a major part in Bolton's Homelessness prevention strategy. They have a proven track record of working in partnership, achieving success in finding suitable accommodation and sustaining clients over the longer term."
Housing Options and Advice Services Group Manager, Bolton Council
How it works
Street Life is funded by Bolton Council. We work with rough sleepers and other homeless people with complex and enduring housing related needs. Our Street Life workers are particularly successful with those who have a complex housing history including rent arrears, property abandonment, eviction and anti-social behaviour – all of which seriously limits their housing options. Our project helps prevent rough-sleeping by helping people find accommodation as quickly as possible. We work with a range of private landlords and temporary accommodation providers to make the best possible solutions available.
Every Wednesday afternoon, between 1.00pm and 3.00pm,  Street Life operates a drop-in at our Amber Centre on Snowden Street. Advice and information is given particularly in relation to housing options, applications for housing, benefit queries and landlord concerns. Bolton's Drug and Alcohol Service attend to provide specialist support. NHS Homeless and Vulnerable Team Nurse Practitioners are another great asset to the service – providing health screening and advice, wound dressings, flu jabs and prescribing. We are grateful for our team of volunteers who provide a warm welcome, help with refreshments and support overall comfort and safety within the centre.
Please click on the image below to see the location of the Street Life drop-in (entrance at the rear of the building).
You can read the story about one of the many clients we have supported here.
Over this past year we have experienced steady demand for our Street Life service. This has been enhanced by an increased level of support being provided through partner agencies. In addition, we have successfully encouraged hostels to only signpost their clients to us after they have first tried to source more sustainable accommodation themselves. Our temporary emergency night shelter project 'In off the Street' and the GM 'bed for every night' initiative have also had a positive impact on those needing and benefiting from Street Life support.
Over the course of this past year, Street Life  engaged with a total of 531 service users, some of which would have been a single face-to-face discussion. Of these, we were able to provide meaningful support to 430 individuals (up from 310 in the previous year).
By March 2021, 138 had been found accommodation (up from 92). 27% were accommodated with Bolton at Home; 21% in temporary hostel accommodation and Bed and Breakfasts; 16% were accommodated by housing association organisations; 28% by private landlords; and 8% were accommodated by other means.
In feedback that we have collected from our service users over the past 12 months, 100% said they were satisfied (or better). Some of the comments from service users were:
"I am more than satisfied with all the help Street Life gave me, my mental health is getting better since I got a place to live."
"We are happy with everything Street Life has helped us with. They found us a place to live, helped us budget, set up services and got us everything we needed."
"The Street Life worker is helpful and friendly and is always there for me when I need him."