Storehouse is Bolton's main centrally located foodbank – providing weekly food parcels to those in need across the borough. We simply could not deliver such a broad-based and far reaching service without the help and support of specialist and local community-based agencies, the generosity of food donors, and the commitment of many volunteers.
Primarily the project supports families and single people in distress as a result of redundancy, illness, debt, adverse changes or a delay in benefits including those who have been sanctioned. Other reasons for people needing to make use of the foodbank are homelessness and family breakdown.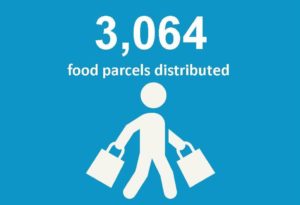 Client Stories - Storehouse
"Storehouse brings hope to people in desperate times"
How it Works
Agency workers are the first point of contact for individuals wishing to receive food. A voucher system is used to register applicant circumstances and their support needs. The agencies we partner with hold vouchers on our behalf and make a basic assessment at the point of need.
Voucher recipients are invited to collect food from our Urban Restore Centre which is situated on the corner of Pool Street and Bark Street in Bolton. The Foodbank is open every Tuesday morning. Agency staff may request a home delivery on the preceding Monday evening for housebound clients.
Clients attending our Restore Centre are welcome to stay for refreshments and a chat with our volunteers who can signpost them to other services and agencies for further support.
If needed, clients can access up to six weeks of food in any 6 month period. Most of the food we are able to supply comes from food donations, and local supermarkets surplus.
We conduct periodic refresher training with our partner agency workers. This covered eligibility criteria, operating procedures and signposting guidance.  Working together, we are proud of the comprehensive range of support beyond food that our clients are able to access to help them address the underlying causes of their hardship.
Food provision alone is not a sustainable way of helping someone, so we work with agencies to ensure the cause of their hardship is addressed alongside receiving food. Along with our Winterwatch project, Storehouse benefits from the generosity of over 60 schools, 80 churches and numerous local business and organisations who collect food, both at harvest time and throughout the year, many using our "Grub Tubs".
Grub Tub locations can be found here.
Please click here for a list of food that you can donate to help us run Storehouse. You can drop off donations at our office on Salop Street BL2 1DZ. We're open Mon, Tues, Thurs, Fri 9am-5pm and Weds 10am-5pm. Or you could get a supermarket to deliver an order to us.
Outcomes
Over the past year Storehouse Foodbank gave out 3,064 food parcels (up from 2,900 in the previous year). The average household size was relatively static at 2.3. Adults were supported on 4,064 occasions (up from 3,685), and children on 2,830 occasions (marginally down from 2,847).
Most recipients collected their parcels from our Centre. However, home deliveries were made on 660 occasions (marginally down from 684). In the majority of cases (1164), the reasons given for requesting a food parcel were changes, suspensions or delays to benefit payments. This is down from the previous year but we have seen an increase in those accessing the foodbank due to high levels of debt by the same number.
Over the past year, client referrals to the foodbank were made through a staggering 492 staff working for 123 partner agencies (up from 118 in the previous year). These include Citizens Advice, housing providers, community and Children's Centres, local authority workers, health visitors and other local charities.
Over the course of the year more than 90 volunteers helped to sort and bag food, and provide a warm and welcoming atmosphere with refreshments when clients attend.
A recent survey of our foodbank clients' views found the overall satisfaction with our service is running at 100%.
Future Plans
We will continue to build upon our good relationship with churches and other community-based organisations – particularly those with a desire to expand on their neighbourhood impact and help in the battle to arrest poverty in all its forms. We are also working more with our Friends of Fun Food team who are coming to Storehouse to talk to clients about healthy eating and demonstrate recipe ideas made from the food we are distributing.
Sally's Story
"I first came to Storehouse last winter after a very unsettled way of life. I was drinking heavily, taking drugs and in a very abusive relationship. I was very badly assaulted by my now ex-partner which resulted in me needing hospital treatment. I had no income at this time to support myself. There was not a scrap of food in the cupboards, no heating as I had no money for gas. I had never felt so lost and helpless in my life, cut off from family with no real friends. I really was at the point of giving up on life, just wanting the physical and emotional pain to stop. I was then appointed a support worker from the domestic violence team at my housing provider. It felt like Christmas had come early when I was given a voucher for Storehouse. My support worker took me down to the centre and I had a mix of emotions. I was relieved to be getting much needed food as I was hungry and had lost so much weight from taking drugs and stress but I felt ashamed and embarrassed. When I walked into Storehouse I was greeted with a smile and was made to feel so at ease and welcome. I sat and cried and was comforted by the kindness of the volunteers. My feelings of shame soon went and I left feeling a bit more hopeful that my life would get better. Each time I went for a food parcel I was made to felt at ease and just being able to talk about the difficulties of the past made so much difference. Each visit someone would pray for me and I came to know just how precious life is, and that we are never alone despite how we feel. A year later and my life has changed in ways I can only describe as a miracle. I am now drug and alcohol free and look healthier than I have for many years. I have my family back which means so much to me. Life throws me a curve ball every now and again but I have faith in our awesome God who will never leave me. He knows exactly where my life is going and having placed complete trust in Him I am living with a spring in my step and a smile. Life could have ended so tragically had it not been for the provision of Storehouse and the kindness and support given to me. I thank God every day for Storehouse and the volunteers who not only give out food parcels but take the time to sit and listen and show true compassion no matter who you are. I would like to say to anybody who has found themselves in that dark and lonely place for whatever reason that there is hope and never give up because you are so very precious."
Bolton Council Local Welfare Provision
Urban Outreach also supplies emergency food parcels for Bolton Council under its Local Welfare Provision scheme (replacement for Community Care Grants and Crisis Loans). This is a separate scheme to Storehouse. All enquiries regarding this need to be directed to the One Stop Shop at Bolton Town Hall 01204 332772 or online here. We only supply the food parcels and regret that we are unable to answer queries about applications, the application process or eligibility.
In the main, means-tested referrals are made to us by the Council who fund the scheme. We purchase the specified items and prepare them for distribution according to household size. The food we provide is intended to be sufficient to support the applicant household's needs for a week. We are only able to provide this service to clients who attend our office on Salop Street, Bolton with an approval code issued by Bolton Council or Bolton at Home.
Over the last year for Bolton Council, 1536 referrals were made for food parcels and/or energy top ups, supporting 1536 adults and 775 children (down from 1,579 referrals in the previous year). On average each month we supplied £3,190 worth of emergency food and £2,907 worth of pre-payment gas and electric top ups.
Over the last year Bolton at Home made a total of 77 referrals totalling £2,667 for energy top ups.