Storehouse is Bolton's main centrally located foodbank – providing weekly food parcels to those in need across the borough. We simply could not deliver such a broad-based and far reaching service without the help and support of specialist and local community-based agencies, the generosity of food donors, and the commitment of many volunteers.
Primarily the project supports families and single people in distress as a result of redundancy, illness, debt, adverse changes or a delay in benefits including those who have been sanctioned. Other reasons for people needing to make use of the foodbank are homelessness and family breakdown.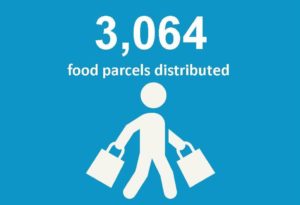 Client Stories - Storehouse
"Storehouse brings hope to people in desperate times"
How it Works
Before the pandemic struck, a voucher system was in operation whereby individuals and households would apply for a food parcel through one of our many partner agency workers across the borough.  Voucher recipients would then be invited to collect food from our centre, with only a small proportion of parcels being home delivered. Since the pandemic and lockdown, all our food distribution services including Storehouse, have been merged into a single new humanitarian Food Hub.
More information on the Food Hub can be found here.
Storehouse benefits from the generosity of over 60 schools, 80 churches and numerous local business, organisations and individual people who collect food, both at harvest time and throughout the year.  You can learn more about how to make food donations here.
Outcomes
Over the past year Storehouse Foodbank gave out 3,064 food parcels (up from 2,900 in the previous year). The average household size was relatively static at 2.3. Adults were supported on 4,064 occasions (up from 3,685), and children on 2,830 occasions (marginally down from 2,847).
Most recipients collected their parcels from our Centre. However, home deliveries were made on 660 occasions (marginally down from 684). In the majority of cases (1164), the reasons given for requesting a food parcel were changes, suspensions or delays to benefit payments. This is down from the previous year but we have seen an increase in those accessing the foodbank due to high levels of debt by the same number.
Over the past year, client referrals to the foodbank were made through a staggering 492 staff working for 123 partner agencies (up from 118 in the previous year). These include Citizens Advice, housing providers, community and Children's Centres, local authority workers, health visitors and other local charities.
Over the course of the year more than 90 volunteers helped to sort and bag food, and provide a warm and welcoming atmosphere with refreshments when clients attend.
A recent survey of our foodbank clients' views found the overall satisfaction with our service is running at 100%. You can read the story as told by one of the many people who received help from Storehouse here.
Local Welfare Provision
Urban Outreach also supplies emergency food parcels for Bolton Council under its Local Welfare Provision (LWP) scheme. This is a separate scheme to Storehouse. Since the pandemic and lockdown, approved LWP parcels are no longer collected in person from our office.
All our food distribution services including Local Welfare Provision have been merged into the single new humanitarian Food Hub home delivery service which is explained more fully here.
With LWP we only supply the food parcels and regret that we are unable to answer queries about the application process or eligibility. All such referrals are made to us by the Council who fund the scheme.
In addition to home delivered food parcels, LWP may (subject to eligibility) provide help with an emergency gas or electric top up (if you have a pre-payment meter). This service is funded by Bolton Council and Bolton at Home who refer each eligible household to us. We are only able to provide this service to clients who attend our office on Salop Street, Bolton BL2 1DZ with an approval code issued by Bolton Council or Bolton at Home. Please note that the LWP energy top-up service is only available between 10.00am and 12.00noon on Monday's, Wednesday's and Fridays.
OUTCOMES
Over the last year for Bolton Council, 1536 referrals were made for food parcels and/or energy top ups, supporting 1536 adults and 775 children (down from 1,579 referrals in the previous year). On average each month we supplied £3,190 worth of emergency food and £2,907 worth of pre-payment gas and electric top ups.
Over the last year Bolton at Home made a total of 77 referrals totalling £2,667 for energy top ups.