Reach Out offers practical and emotional support, information and guidance to women involved in sex work in Bolton. The project aims to empower women – helping them to exit prostitution and rebuild their lives.
"The sensitive issue of prostitution is a challenge but Urban Outreach have approached this work with great tact and pragmatism and they form an important part of how Bolton continues to address prostitution in the town."
Head of Community Safety and Neighbourhoods, Bolton Council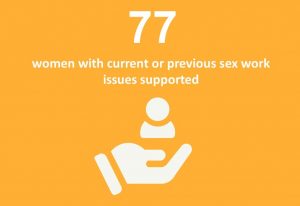 Client Stories - Reach Out
How it works
Working closely with Gtr. Manchester Police, Social Services and the NHS, our specialist support worker engages with women who are at risk on the street. She also works with women in a massage parlour. Here we were able to provide sexual health, welfare and harm reduction support sessions on a 6 weekly basis. The service is funded by Bolton Council's Community Safety and Neighbourhoods Section and from charitable donations.
In this work, the critical support provided by our project is often needed and wanted by women over many years before changes for the better can be realised. We often find that prostitution is the result of other issues in their lives. So, in helping them address the 'sex work' problem, many of the women we see are helped with health, drug, alcohol, finance, benefits and debt issues. Where appropriate, we help the women address issues of attitude, thinking and behaviour. We also help them with training, employment and accommodation needs.
For more information about Reach Out and the service it provides, please use our Contact Us page.
Outcomes
Reach Out has been instrumental in the dramatic reduction of street prostitution in Bolton over recent years – down from 170 known individuals in 2003 to the low numbers we see today. 44 women with a known sex working issue or risk were newly referred to us last year. We continued to work with 16 women who we were already supporting at the start of the year. During the course of the year we were able to close files on 8 women whose specific needs had been met.
In addition, our specialist support worker engaged with a further 17 'at risk' women working in parlours. Our work within the parlour included giving housing advice and discussions to identify highly vulnerable / trafficked women.
In feedback we collected from service users over the last year, 100% said they were satisfied (or better) with the service we provided. Some of the comments made were:
"My Reach Out worker is always there for me when I need her. She understands all my needs and gives support, patience, and knowledge."
"They have helped me for years, stood by me all through the bad times, always there for me when I need them and knows all about my needs."
Helen's Story
"I used to believe that I was a total waste of space. I was a homeless alcoholic with a raging smack (heroin) and crack addiction. I funded my addictions through prostitution and shoplifting. I'd lost all my friends and family and felt that I was in too deep to get out. My life was the same repetitive cycle day in day out. 12pm a dig of heroin and a stone on the pipe followed by a few cans of lager. 4pm another dig of heroin and a couple of diazepam's to relax me, leaving me like a zombie. 6pm I would head to Shiffnal Street, to make money for enough drink and drugs to last until the following day. I knew that anything between three to five punters would ensure that I would have enough in my pocket. 11pm I would head home wherever that would be. Another two more bags of heroin and a stone or two would take me through to 7am. At 7am it would all begin again with a dig of heroin.
Nights on Shiffnall Street were cold dark and lonely, especially after five years of having to feed my habit. But one night God stepped into my life through the most loving, kind and caring lady from Urban Outreach. That night I didn't really want to speak to her, as I had noticed a regular punter driving around. So I hurried her on but she still had time to speak kindness to me and leave me her card. She began regularly visiting us girls as we worked the streets, offering support and a listening ear. I started to attend the Reach Out Centre which she ran. The staff spoke to me and treated me like a normal person and not some junkie. The centre manager became an inspiration to me and someone that I wanted to be like. She believed in me and was willing to give me that second chance that I desperately needed.
After several rocky months which involved me being in hospital with a blood clot from injecting, shop lifting and various court appearances. Reach Out managed to get me into a women's hostel outside of Bolton. They gave me a bag of new, fresh clean clothes. I was able to shower at the Reach Out Centre and get dressed, I felt like a million dollars. The support didn't stop there. They helped me with travel and supported me through the interview. Unfortunately the hostel didn't have any places but the Reach Out team pestered them day and night until a room became available. The following morning I moved into the hostel and that was the last night I worked on the street.
It wasn't long before I was placed on a methadone prescription in order to help my withdrawals from heroin. I began working on building bridges with my family members and most importantly my son. Reach Out continued to support me through all that I faced and the centre manager was even there at the birth of my little girl.
I'd like to say that everything was perfect but I started to drink again and became dependant once again. I got to the point where I couldn't pretend anymore. I spoke to Reach Out about my problems and the team got me a placement in a Detox Unit for ten days. After these ten days things were going great but six months later my daughter's father passed away and I began drinking more heavily than before.  Once again Reach Out stepped in and found me a four week placement in Detox. This time I was determined that I wouldn't let my children, myself or anyone down again.
I really do believe that had Reach Out and Urban Outreach not been in my life I would not be here today to tell this story. I now live life to the full and know that I don't need drink and drugs; all I need is life and my children."