Storehouse Pantry is an evolution of Storehouse Foodbank. It is a not-for-profit partnership which gives struggling residents in target areas, access to food and other household essentials for a small affordable weekly subscription.
Goods are supplied largely through supermarket surplus and individual donations. Households access by application to become Pantry 'Members'. Members can attend their neighbourhood Pantry on a weekly basis. Here they receive a warm welcome, good conversation, and a range of help and support. This includes selecting items from Pantry shelves which are restocked weekly.
Membership enrolment is based on foodbank and residency criteria and is periodically reviewed on a one-to-one basis to avoid dependency and to support Members in addressing all that is creating hardship for them.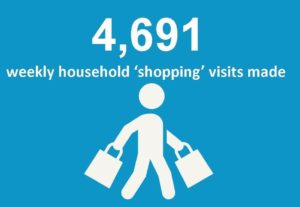 How it Works
From its launch in November 2015, we are evolving and developing this initiative in partnership with others. At present this is St. Peter's Church, Halliwell and Bolton at Home. Together we are facilitating wrap-around support for Pantry Members in the form of a 'market place' of services. Here, specialist workers provide advice and guidance to support Member needs including debt and energy advice, help with CV's and finding work, help with making meals and support with rent arrears etc.
Two Storehouse Pantry venues are currently operating. These are at the Hope Centre on Johnson Fold Estate Halliwell, and at an Urban Care Centre on New Bury Estate, Farnworth. Food donations to support the Pantries are through grub-tub donations, and local supermarkets, fast food restaurants and food-to-go shop outlets. We are very grateful to all the food businesses that are helping us to make this service happen week in, week out.
We are working on expanding the Pantry model to other locations across the borough including locations where a mobile Pantry in the form of a converted library bus will operate alongside community venues. We have now recruited a dedicated member of staff to take this forward.
Outcomes
Over the past year there were 101 opening sessions on the Johnson Fold and New Bury estates, (up from 95 in the previous year). An average of 77 households were being supported weekly by the year end, (slightly down from 80 in the previous year). 4,691 weekly 'shopping' visits were made (up from 3,780 in the previous year). The average Member household size remains stable at 2.7. Adults were supported on 7,626 occasions, and children on 5,004 occasions. A recent survey of Pantry Member's views found the overall service satisfaction to be 100%.
All this has been achieved through the tireless work of Urban Outreach and partner agency volunteers who have helped with food collections, deliveries, sorting, shelf stocking and serving Pantry Members.
Future Plans
We have a vision to roll-out our mobile Pantry to every poverty hot-spot in Bolton. We are working with social housing providers, churches, other community-based organisations and Bolton Council to achieve this.
Please use our Contact Us page to find out more.