Friends of Fun Food was born out of a growing concern about unhealthy eating habits with more people than ever eating fast food and too few fresh fruit and vegetables. Our research tells us that costs, lack of knowledge, lack of interest in cooking and low levels of cooking confidence are major barriers. Our project is all about stimulating new found interest in food. The project is broad-based, but our primary focus is in supporting disadvantaged and low-income individuals and families and in providing guidance in cooking nutritious meals on a budget. "Let the adventure begin…"
"The cookery sessions really helped my family. My daughter has struggled with eating and illness since she was little so it's been really good seeing her trying new foods"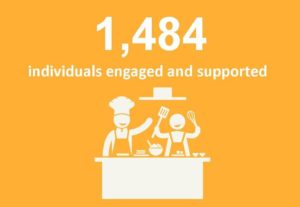 How it works
Our project is all about putting the fun back into food, broadening experience, gaining skills and confidence and in people supporting one another in cooking together. We work to support clients who are currently engaged in support from other Urban Outreach projects and with external agencies such as Bolton Council, Bolton at Home, Adullam Housing Association, Age UK, Bolton University and Probation services. We also work with schools and community groups in disadvantaged neighbourhoods.
We provide cookery sessions and food activities to help people gain the skills and confidence to buy, prepare and cook food. This is done in one-to-one and group settings. We guide participants in preparing meals from scratch. Our sessions provide:
Food budgeting guides based on preferences, household size and budget,
Guidance on food and kitchen safety,
Tips on how to make simple changes that can have a big impact on nutritional health,
Advice on the freezing and batching food,
Tips on maximising the shelf and fridge life of food items,
Recipe cards and booklets, 'get cooking' packs and take home ingredients.
Summer food activities include open access events which we organise at venues alongside our Bolton Lunches project. These engage children and their parents in a range of interactive, food-related games and activities. We love seeing folk trying new foods and exploring new tastes, as well as families learning to cook and eat together. Our team is continuing to develop new 'fun food' programmes which are reaching, engaging and inspiring many across the Bolton area.
New Developments
We are proud to be partnering with Bolton University in developing a Pregnancy and Weaning Programme. Commencing in January 2020, this new project is tailored to the specific needs of vulnerable expectant new parents.
We have also developed a Family Budget Cooking Course designed to help families improve their food budgeting skills and save money on their food shopping.
Outcomes
Over the past year, a total of 1,484 individuals were engaged and supported through Friends of Fun Food, (up from 1,231 in the previous year). This included over 1,000 children and 400 adults within family groups and individuals. We worked with 26 schools and community centres, and participated in 51 community events.
From our recent surveys, 100% of participants said they were satisfied with our service, and 85% felt they had definitely gained confidence in cooking and food budgeting.