The Bread Man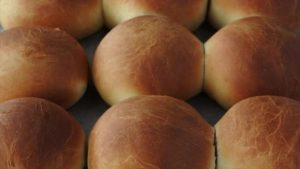 I wonder ………………………………………….
Do these names mean anything to you?……………….
Lawrence Olivier, Richard Burton, Tom Hiddleston, Anthony Hopkins, Benedict Cumberbatch, Tom Courtney, Idris Elba, Tom Hardy, Sean Connery……. Philip Ward?
Well done!! You are correct! 10/10
They are all brilliant male British actors including Philip Ward who along with his wife Pauline are also valued and dedicated volunteers at Urban Outreach.
In this coming year as we celebrate our 30 years we are going to take the opportunity to chat with some of the wonderful people who have 'journeyed' with us.
We begin here with Philip who through his involvement with the Bolton Lunches has earned him the affectionate name "The Bread Man!"
Sitting with a mug of tea in one hand, balancing a pad of paper and pen in the other was how I began my 'adventure' in to the world of Philip with his fascinating stories of his life so far with family, in theatre and in volunteering.
Philip was born and raised in Bolton.. a proper 'Boltonian' through and through. Married to Pauline, with one daughter and presently worshipping at Victoria Hall Methodist Church, Philip talks with a passion and a desire to serve the people of his home town who are vulnerable and in need of support.
A retired but once a self-employed joiner, Philip tells me about how his love for theatre and how his love of acting grew when he first got involved in a 1989 production of "Spring and Port Wine" through the Halliwell Methodist Church on Harvey Street (which was later to become The Halliwell Theatre Company).
Taken on a journey of amazing stories, scripts, funny incidents and meeting some of the characters Philip had 'owned' was for me a time I felt privileged to have shared. I felt I had actually 'met' the Inspector from "An Inspector Calls," Major Warnie Lewis from "Shadowlands" (whom I sensed a real fondness from Philip), the Father in "Spring and Port Wine" and many, many more! Where was the time going? Plus, my cuppa tea was now cold! I was hungry to enter more in to Philips world…….
A very modest man I heard how his skills in joinery have been useful in building at least 60 theatre sets so far, his skills in directing plays and some work on the History Channel are just to mention a few. I smiled when Philip mentioned that Pauline, his wife, was also 'called upon' from time to time to help with sets and scenery!
As we chatted more about Philip's introduction to Urban Outreach, not unlike his theatrical beginnings, Philip was in church when he heard and 'acted' upon a request for help with the Bolton Lunches Project. This was in 2017 and since then he and Pauline have appeared (and not blurry eyed, may I add) at 6.45am in a morning during the whole of the summer school holidays!!! For me, there is nothing more encouraging than experiencing volunteers arrive so early with huge smiles on their faces ready and eager to 'roll up their sleeves' for the preparation of 53,331 packed lunches, oh, and to listen to and sometimes sing along to, early morning Bolton FM! (Thanks everyone!!) As a result of this both Philip and Pauline now volunteer weekly at the unit on Trinity Retail Park, sorting out an abundance of tinned goods and toiletries that people have so kindly donated for our Storehouse food bank, Pantries and Winter Watch Projects. (Again, 'thank you to everyone who tirelessly comes along week after week to help make all this possible!')
Being almost 'swallowed up' by Philip's enthusiasm about his volunteering opportunities with Urban Outreach, he shared his heart for the plight of people and a comment his mum once made that had obviously stuck with him through life;
"You don't know, so you can't comment on other people's circumstances!"
For a few moments I was taken back to when Philip worked on some of the houses for rent in Bolton. Here he experienced first-hand some of the repercussions of new taxes the then Government introduced. The plight of families disturbed him as he saw their struggles and children prematurely forced to leave their home because of lack of money. Another part of Philip's 'makeup' that makes him the person he has become, today!
It was at this point that Philip compared volunteering with Urban Outreach like being part of a theatre production! I liked this analogy! He said; "successful performances require organisation, clear directing and team work. It does take a lot of work and this is what goes on within Urban Outreach so that projects happen and run smoothly."
Thanks Philip for your kind words!
Philip continues to be very active in the production of plays and since 1999 he has been part of the Phoenix Theatre Company (http://www.phoenixtheatrebolton.com/) who have decided this year to support Urban Outreach in its 30th year by presenting their audiences with an opportunity to donate. This is amazing and we are so grateful to all of the Phoenix Theatre Company members in making this possible. Thank you. So…
…. to finally 'bring down the curtain' on my brilliant morning, I should return to our infamous 'Bread Man!' ……..
Why this title? Well, in the process of making all the butties for Bolton Lunches, Philip is one of 3 volunteers who takes all the bread buns out of their wrappings and carefully opens them up and places them ready for 'the butterers!' This is the start of a very important line of production!
Philip and Pauline are two of the hundreds of volunteers who have walked these past 30 years with Bolton and Urban Outreach and with hope and much appreciation we trust will continue to do so well in to the future.
Our gratitude to you all!