Upcoming event for your diaries ….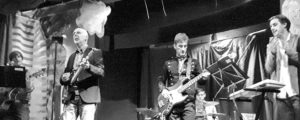 Kaleidoscope Pies
On Saturday the 3rd of August 2019 "Kaleidoscope Pies" are doing a Beatles sing-a-long at The Round House in Bolton (BL1 3TZ).
Tickets are £10 per person and doors will open at 7pm. The ticket price includes a pasty and peas supper  and there will be a raffle – all to raise money for the great work Urban Outreach does. Please come and join us and tell your friends it will be a great evening.
To buy tickets please click here.
We look forward to seeing you there!